Program Update:
Initial Voucher Term Now 60 Days
Effective October 1, 2018, the initial voucher term will be 60 days for vouchers issued during intake and the move process. The participant must submit a Request for Tenancy Approval within the 60-day period unless HADC grants an extension.
Break It Down:
Housing Quality Standards (HQS)
Participant Responsibilities:
The participant is responsible for correcting the following HQS deficiencies:
Tenant-paid utilities not in service
Failure to provide or maintain participant-supplied appliances
Damage to the unit or premises caused by a household member or guest beyond normal wear and tear. "Normal wear and tear" is defined as items which could not be charged against the tenant's security deposit under state law or court practice.
Landlord Responsibilities:
The landlord is responsible for all HQS violations not listed as a family responsibility above, even if the violation is caused by the family's living habits (e.g., vermin infestation). However, if the family's actions constitute a serious or repeated lease violation the landlord may take legal action to evict the participant.
Success Lives Here:
Making a Difference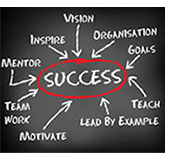 I have observed many people living in extreme poverty – lacking basic needs and education. Often, I would ask myself how I can make a difference? I believe one of the most important things in life is to enable people to do whatever they desire. If people can change their mindset, they can change their lives. I wanted to share this story because stories inspire us, connect us, and give us permission to act and show us a glimpse of who we aspire to be.
My prior tenant really disappointed me and caused substantial damage to my home, increasing my insurance and mortgage payments. I was determined to learn from this! When interviewing for a new tenant, my current tenant called to ask about my home. I was not impressed initially; however, because she was so persistent, I interviewed her in her home and found her to be a neat young woman with two boys. She was very open and honest about who she was and what she wanted. Although I told her I didn't think we would be a good match, she continued to call to ask if I had rented the property. When repairs to the property were completed, she asked me if she could come by. I told her yes, but that I would not rent it to her. In viewing the property, she told me how beautiful her furniture would look there. There were other good applicants, but she pleaded with me to rent to her, so I did.
I have developed a good rapport with her son, who is smart and well-mannered. He had a basketball goal at the end of the driveway. I told him that was not acceptable. As a member of the YMCA, I adopted him as my spiritual grandson and took him there on a tour. He was so happy. He played basketball, was able to go swimming and meet new friends. He wrote me a beautiful thank you letter saying no one ever did what I did for him. My heart melted.
One day I went to the home after the grass was cut and noticed the hedges were not groomed. I told my tenant's son he was capable of cutting those hedges. The next time I came he had trimmed them. Whatever I ask my tenant to do; it is done in a timely manner. I have shown her things to check such as the filters and how to change them, as well as how to reset electrical circuits. The home is decorated beautifully and well cared for.
I believe that a vested interest is important when renting and am truly grateful to finally have a tenant who takes care of the property as her home. This has made a difference in both our lives.
This article was written by Urenna' N. Crawford, a Member of the HADC Landlord Advisory Board. You can submit your story by emailing Katherine Cole at katherine.cole@dekalbhousing.org.