Access Owner Portal for Forms and Information for Properties Under Contract with HADC.

• Review and update your contact information.
• View payment transactions on your ledger.
• View your unit information.
• View unit inspection results.
• View and obtain contact information for the specialist currently serving each of your tenants.
List Your Properties on
Go Section 8!
HADC encourages our landlords to list properties on the listing service, www.gosection8.com. This site is intended to provide better service to both our landlords and particpants.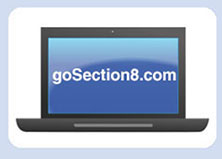 Link here for a complete list of HCV Program Contacts



HCV Call Center
404-270-2500
Mon-Thurs: 8am - 4pm
Friday: 8am-12pm

HCV Lobby
Mon-Thurs: 8am - 4pm
Closed on Fridays

www.dekalbhousing.org




Policy Update:
Contract and Lease Initial Term Dates
The HADC HCV Program has changed its policy regarding the initial term dates for all Housing Assistance Payment (HAP) Contracts and leases. Prior to the change, HAP Contract and lease initial terms could be more than one year; however, the initial terms must now be exactly one year.

Example of the prior practice: Unit passes inspection on December 22, 2019; the initial term of the Contract and lease would be December 22, 2019 to December 31, 2020. The initial term in this example is 12 months and 9 days.

Example of the new practice: Unit passes inspection on December 22, 2019; the initial term of the Contract and lease will be December 22, 2019 to December 21, 2020. The term in this example is one year.

Please note that the lease and HAP Contract initial term dates must be the same; and payments cannot be approved if the lease does not comply with the new policy. If there are any questions, please feel free to contact Kentrye Cornelious at kentrye.cornelious@dekalbhousing.org.
Did You Know:
Contacting Your Participant Family's Housing Specialist
One of the best resources for program-related information is your participant family's Housing Specialist. You can find their contact information, including email address and direct phone number, on the HADC website and by linking HERE. Please note that the Specialist's phone number also serves as their direct fax number should you choose to submit documents to them via fax.

Housing Specialists are assigned alphabetically and by program. If you are unsure who your participant family's Specialist is, click the above link and locate the Specialist who is assigned to the first letter of the Head of Household's last name and their program (HCV, Port-in, Project-Based, etc.). If you need assistance identifying who the assigned Specialist is, please feel free to contact Client Services at

404-270-2500.
Tips:
Volunteering for the New Year


Have you thought about starting to volunteer or doing more volunteer work for the new year? If so, here are some tips to help you get started.

Consider the causes or issues that are important to you, and research what organizations are working with these causes. The organizations may have volunteer opportunities that would be a great fit with your interests.
Consider the unique skills you have to offer. You may want to search for volunteer opportunities that would incorporate your skills, previous experience and/or personality traits.
Is there a new skill you would like to learn, or would you like to gain exposure in a new area? Volunteering may give you an opportunity to master a new skill, make new connections and/or add variety to your daily routine.
Is there a personal goal you have that volunteering can help you reach? For example, if your goal is to lose weight, active work, such as volunteering to clean a park or working with kids, could help you reach that goal.
Carefully consider the time commitment you are willing and able to make, and don't over-commit.
For more tips on volunteering, visit

networkforgood.org/volunteer/volunteertips.aspx

.