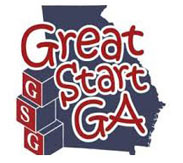 Great Start Georgia of DeKalb County helps expectant mothers and children (newborn to age five) and their families learn about the services available in our community that help children get a "great start" in life.
Great Start's information and referral center directory has resources on everything from how to find a doctor to finding quality child care to learning about your child's growth and development. Information is also available for parents with serious concerns – including employment, medical insurance, depression, developmental delays and other child care needs.
Call 404-990-7303 or email DeKalb's Community Screener today for more information. Visit www.greatstartgeorgia.org for access to Great Start's online information and referral center.